Manhattan Beach Invisalign experts
Discover the remarkable benefits of Manhattan Beach Invisalign clear aligners, a treatment option that offers the same exceptional orthodontic results with added freedom and flexibility. As your trusted Manhattan Beach orthodontist, we take pride in creating beautiful, forever smiles for patients of all ages, ensuring optimal oral health and confidence. Schedule a consultation today to explore the transformative power of Manhattan Beach Invisalign.
Clear aligner systems, such as Invisalign®, offer a removable and effective solution to align teeth and enhance oral health. Backed by research, Invisalign® proves its effectiveness in treating common orthodontic issues, matching the results of traditional braces.
During your initial consultation, our team will utilize x-rays and digital impressions to create a precise 3D image of your teeth. With this information, we craft custom aligners designed exclusively for your smile. Made from a comfortable, smooth material, these aligners fit securely over your teeth. Regularly switching your aligners every 1-2 weeks gradually guides your teeth into their proper positions.
At Hom Orthodontics, our experts closely monitor your progress to ensure optimal results. Following the recommended aligner change schedule and wearing them as instructed is crucial for a successful Invisalign® treatment. Consistency is key, as failure to adhere to the prescribed routine or missing appointments can prolong the treatment process. Trust us to guide you towards a confident smile with Invisalign® clear aligners.
It's also important to understand that no two people are the same. Every person is unique and every smile is unique, so every patient will respond to their treatment differently. Clear aligners like Invisalign® work in a slightly different and less invasive way than traditional braces to straighten teeth. That makes it harder to determine how long it may take with your aligners before you see results. The average is somewhere between 6 and 18 months, but it can vary from one patient to the next.
When it comes down to it, your estimated treatment time is going to be based on how well you follow our recommended guidelines. You're going to need to wear your aligners for at least 20-22 hours every single day throughout the course of your treatment. You have to stick to the program, because straying from the routine even a little bid can add extra time to your treatment time with us. There's a good deal of personal responsibility involved with this method of orthodontic treatment.
Whether you want to learn more about Invisalign® clear aligners, or you want to find out whether or not you are a good candidate for this treatment, we're here for you. Contact us to schedule a complimentary consultation.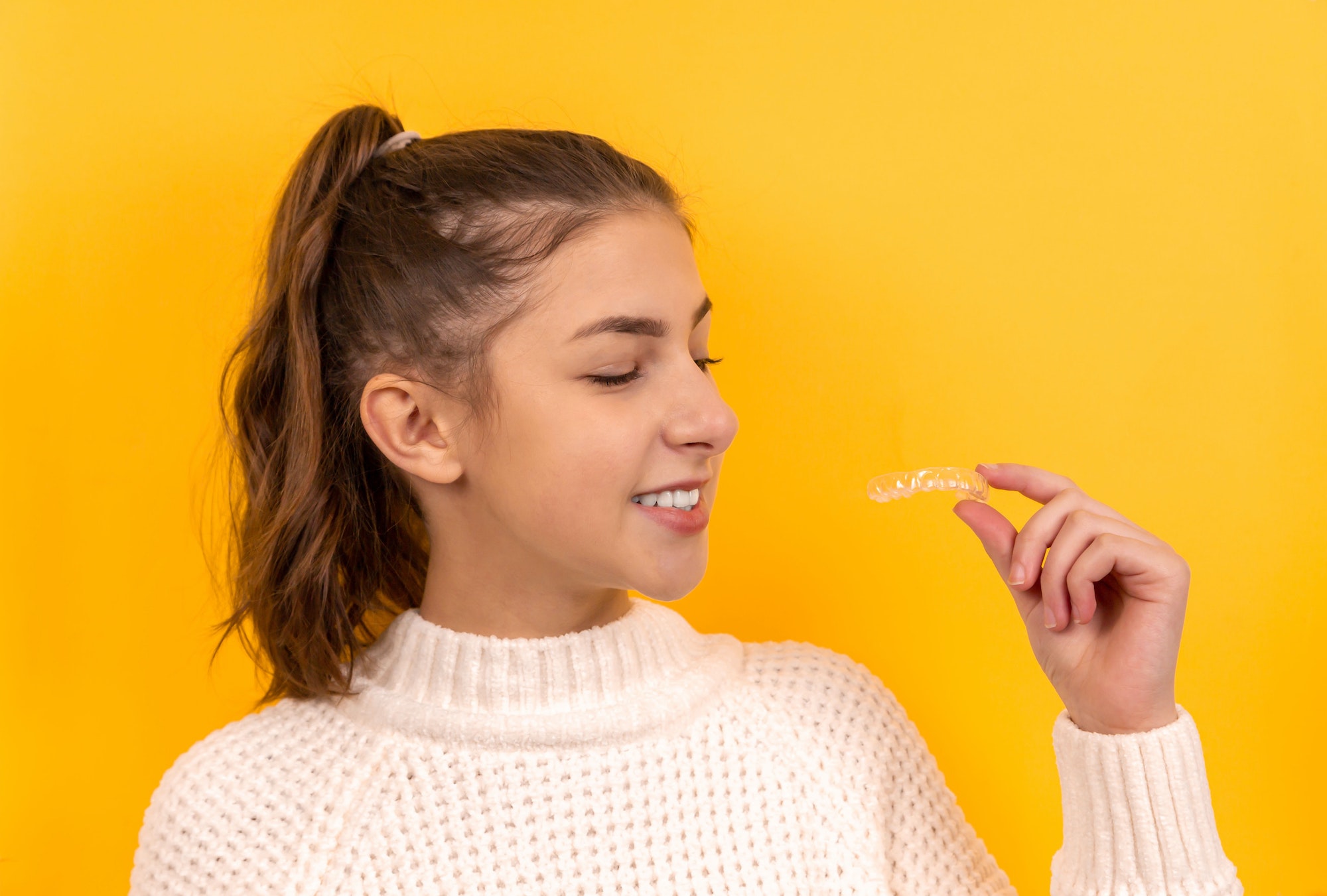 Benefits of Invisalign®
They're practically invisible.
The ability to straighten your teeth without people ever knowing is what brings many people to consider Invisalign® as their preferred orthodontic treatment method.
You can eat or drink whatever you want.
With braces, you're advised to avoid certain chewy, sticky, or hard foods. That means saying goodbye to many candies, popcorn and more. Because your clear aligners are removable, you can continue to enjoy the treats that you love.
You can easily brush or floss.
Maintaining a strong oral hygiene method is an important part of any orthodontic treatment method. Removing your aligners enables you to have easy access to your teeth, so you can brush or floss as you normally would.
There are no pesky wires.
One of the drawbacks of braces is the wires that can poke or irritate your mouth. Those wires also have to be adjusted during periodic visits throughout treatment. With Invisalign, there are still occasional visits to check on your progress, but there are no adjustments.